Emma went to Madison shopping for a dress with accessories for the New Year's Eve dance. One of the accessories would have been stockings. Here's my blog post from "Through the Milk Door" with a brief history of the type of stocking she would have worn.
With all the cold weather lately, I've noticed that it's a rare sight to see a woman wearing a skirt or dress. It's not surprising since skirts are much colder than slacks. It made me wonder about women in the 20s and 30s. We know that below zero weather was very common back then, but women didn't have the luxury of choosing to wear pants.
Maybe the women didn't feel
the cold quite as much as today since stockings were made from different materials back then
.
Nylon material wasn't invented until 1939, so stockings before then were made from silk, wool, or cotton much like men's socks today. These stockings were thick and very warm. An advantage for women during harsh winters.
Of course, when skirts starting getting shorter during the Roaring Twenties, this had to change. Synthetic rayon stockings became the fashion because they were much thinner and form fitting, showing off the legs.

Before the time of pantyhose, s
tockings came up to mid-thigh height. Most women wore girdles with garters to hold up the stockings. Otherwise, a garter belt would be worn to fasten them.
Rayon stockings were knit with a seam down the back of the leg. Any woman who cared about her looks always made sure the seam up the back of her leg was as straight as an arrow when she walked out the front door. The rayon stockings were heavier than nylons today and not as sheer. If they got a hole in them, it would be mended with a needle and thread. The rayon could develop a run in the stocking, but it wasn't considered a total loss like nylons are today.
The rayon stockings were also not as tight fitting and tended to be baggy around the knees and ankles after a few washings. During the Depression, I'm sure that stockings were worn and patched until they didn't hold together anymore. If you look at pictures of older women back then, you'll probably notice the bagginess around her knees or ankles.
Women wore stockings even during hot summers. They would never appear in public with bare legs back in the 20's and 30's. Even on the hottest day of the summer, women would be wearing stockings under their dresses. However, I have it on good authority that if the temperature was too high in the kitchen, a woman might roll her stockings down around her ankles, a very unbeco
ming look indeed.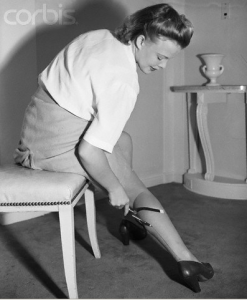 After nylons were invented in 1939, women's stockings were much closer to what we're used to today. Women were thrilled to have the sheer material showing off the shapeliness of their legs. Then during the Depression and especially during World War II when nylon stockings were not able to be purchased due to the war effort, women drew lines up the backs of their legs to create the look of nylons. They were too embarrassed to go out with bare legs and pretended to have nylons on when none were available. The trick was to make sure the line drawn up you leg was perfectly straight.
Finally in the 1960s pantyhose were invented to make life easier for women who choose to wear nylons under dresses. The funny thing today is that
most women today - at least younger women- would never wear nylons under a dress - cold or hot. At least today we can choose to wear pants instead of freezing our legs in the cold weather.