Just Another Mansion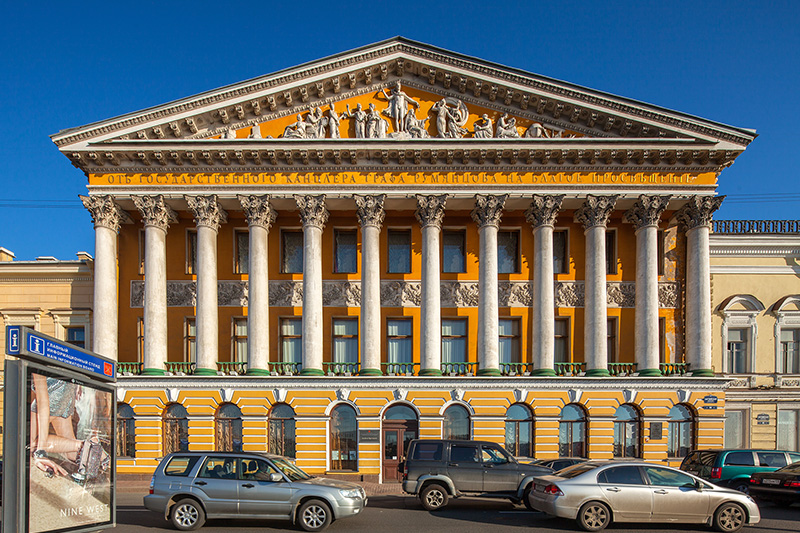 One advantage of being a member of the International Women's Club of St. Petersburg is that I can join in on tours of different sites in our city. In early December, our group went on a tour of the Rumyantsev Mansion. Even if I'd never heard of the mansion previously, it was a beautiful place to see. Located on the English Embankment right next to the Neva River, it was a place I won't soon forget.
It's named after Count Nikolay Rumyantsev who owned it during the early 19th Century. He was a patron of arts and voluminous collector. He had the twelve columns added to the front of his home when he remodeled it because he wanted to imitate Greek buildings. His collections became the basis of the first public museum in St. Petersburg.
The inside was very ornate as are all of the St. Petersburg mansions. Many of the ceilings were even sculptured with plaster into designs.
One unique part of the mansion was the mahogany staircase that was enclosed in the center of the building.
The entire room was built with dark wood, but the staircase set it off in a special way. I was amazed by the amount of work that went into constructing something so beautiful and intricate.
We found out that the "wallpaper" in the room was actually made from molded and painted tin. It actually made the wall more beautiful because of the engraved look it had.
The White Hall was aptly named since it was completely white. Notice the patterned ceiling in this room. The White Hall was the ballroom for the mansion when it was a home.
You will have to return to my blog next week to find out why I won't soon forget this mansion, however. I'll save the most interesting part until then.