Bridges of St. Petersburg, Russia
The Palace Drawbridge open at night for ship traffic
Since St. Petersburg is known as "Venice of the North", it's obvious that bridges are an important part of the city. The city has 342 bridges over canals and rivers in the city limits that vary in size from several lane car bridges to pedestrian bridges.
The bridge (pictured above) crosses the Neva River, the main waterway running through the city. Twenty two bridges that cross this wide river are heavily used for traffic by day, but at night they all are raised to allow ship traffic to maneuver in and out of the Baltic Sea and into the Volga River. Between April and November, the bridges raise and lower by a very intricate schedule so the ships can travel, but also allow for emergency vehicles access to both sides of the city. An open drawbridge is a popular symbol of St. Petersburg.
The newest bridge built to cross the Neva River is the only one that is not a drawbridge. The Bolshoy Obukhovsky Bridge was opened in 2004 and is part of the Ring Road - the freeway system circling the city. We travel on this bridge every time that we need to get to the airport from our flat.
Blue Bridge
The Blue Bridge, the widest bridge in the city, is 97.3 meters wide - wider than the length of a football field. Spanning the Moika river, the daughter of Nicholas I, Grand Duchess Maria Nikolaevna wanted the bridge to be as wide as her palace behind it, so in the mid-1800s it was built to make her happy. Today the bridge holds a large parking lot. By looking at the picture, you can tell how it got its name.
The bridges that cross the canals are generally smaller and very low. Last August we took a river cruise in the city to see a different view of the city and bridges. Going under several of the bridges, we had to duck our heads so that we didn't bump them on the low clearance. Some of the bridges were built in a rather ornate fashion as you can see in the picture on the right. Built in the18th Century, the Lomonosov Bridge was very typical for that era.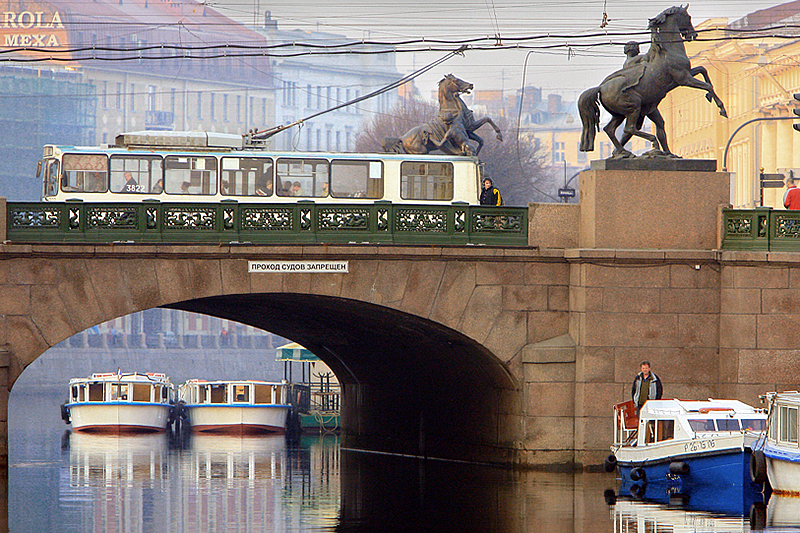 Many of the bridges have statues near the ends of them - lions, sphinx, griffins, and gargoyles. The Anichkov Bridge on the main street in St. Petersburg has four horses - one on each corner. The horses appear with horse tamers trying to control the bronze figures. They're quite amazing to see every time we ride the bus downtown.
I'm sure we'll never see all of the bridges in the city, but we'll give it a good try.
Information was taken from
Wikipedia-List of bridges in Saint Petersburg